Security via Video Analytics – the SAIMOS® WatchBox
Our team exhibited at the annual Oman Fire, Safety & Security Expo in Muscat, Oman, from 1st to 3rd October 2018 for the first time. Therefore, it was the official introduction of the SAIMOS product portfolio in the Middle East.
OFSEC is Oman's only and most comprehensive exhibition on Fire, Safety & Security. Local and international exhibitors were showcasing their avant-garde solutions, latest technologies, cutting-edge innovations, and services. Hence, our SAIMOS® team experienced great interest in our products introduced to the market for the first time.
SAIMOS® team proudly introduced SAIMOS® WatchBox, the next generation alarm system. Both editions, the WatchBox Home and WatchBox Mobile were live demonstrated. Additionally, the SAIMOS® WatchBox App was presented to the audience. We have experienced a high interested in our WatchBox editions as it is unique in the market. Further, our SAIMOS® WatchBox Mobile edition comes in a weatherproof, client specific configuration and is handmade in Austria.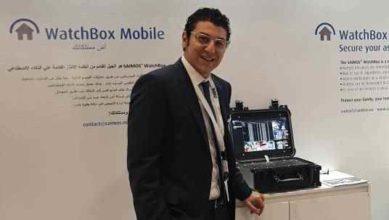 Our SAIMOS® WatchBox is available with a variety of our SAIMOS® Video Analytics functionalities. Consequently, it can be also delivered with a pre-installed VMS (Video Management System) from Milestone or SeeTec.
Integration with the SAIMOS® Control Center
Another big interest was the live demonstration of our SAIMOS® Control Center. Our map-centric solution provides increased situational awareness to security operators, first responders or other security-related operations. Therefore, a common operational picture (COP) is shared with all relevant stakeholders. That results in great benefits for the decision finding process. First, intrusion alarms received from our SAIMOS® Video Analytics as well as other alarms received from sensors are visualized on a map immediately. Second, locational real-time data is also visualized on the map. Third, operations are improved by GNSS locations from trackers or field personnel, weather data or similar.
Visitors experienced the first time during OFSEC the power of a dynamic map for usage in a SOC (Security Operations Center).
SAIMOS® Airborne Live Video Draping
Our real-time airborne video draping solution was presented to the industry during OFSEC 2018 for the very first time. Video feeds captured by airborne platforms are geo-referenced and draped onto a 3D map in real-time. Thus, our solution gained a big interest from first responders to support their operations for example during search & rescue missions.
Better decision support is provided in situations like natural catastrophes (fires, flooding, etc.), border control, and others. Hence, our SAIMOS® Airborne Live Video Draping can be utilised for a wide variety of operations
For your individual inquiries on the SAIMOS® product portfolio, contact us directly here.